—Enabling the provision of quality control and low latency communications according to application or requirements by virtual 5G network partitioning—
September 23,2020
KDDI, in cooperation with Samsung Electronics Co., Ltd. (Head Office: Suwon, South Korea; CEO: Kinam Kim; "Samsung Electronics") , has successfully demonstrated network slicing in a 5G standalone network ("5G SA") [

1]. In the demonstration, end-to-end ("E2E") [

2] network is partitioned virtually in order to achieve multiple communication with qualities such as quality assurance, low latency and the like according to the application or needs of customers.
This is the world's first [

3] successful demonstration of the generation of E2E network slicing where the RIC [

4] defined by the O-RAN Alliance [

5] is used to control network slicing.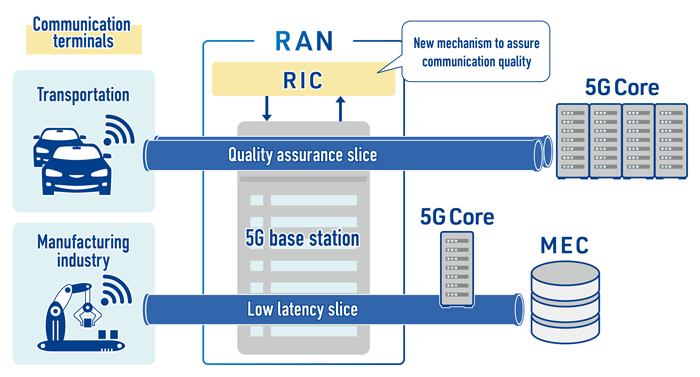 <Diagram of the demonstration>
■Background to the demonstration
The 5G network currently provided by KDDI achieves "ultra-high speed," "high capacity" communication services integrated with 4G in a non-standalone configuration.
For a 5G SA that we will be providing in future, we expect to introduce E2E network slicing. It enables us to provide communication functions suitable for different applications or requirements according to the purpose of use in each case; for example factory automation such as sensor information collection and remote operation in the manufacturing industry, and autonomous driving and operation control in the transportation sector.
KDDI has succeeded in the operational verification of network slicing conducted with a 5G core network ("5G core") in the 5G SA configuration as part of the demonstration carried out in February 2020 [6] in order to maximize the advantages of 5G, including network slicing. We are also moving forward with technology development and verification assuming specific use cases in cooperation with our partner.
■About the demonstration
In this demonstration, in cooperation with Samsung Electronics, KDDI has implemented the RIC defined by the O-RAN Alliance in the base station network ("RAN") [7] as a new control function that ensures communication quality established in advance. By connecting the RAN to communication devices supporting 5G SA, 5G core and MEC [8] , we have succeeded for the first time in the world in generating multiple network slices, including quality assurance and low latency, simultaneously in E2E even in conditions where communication is congested.
Previously, there was no established technical approach to providing multiple network slices that guarantee different communication qualities in E2E. Our demonstration successfully developed a technology to guarantee quality in E2E by generating network slices that include not only 5G cores, but the RAN equipped with the RIC.
As an O-RAN Alliance member, KDDI is working for standardization in an effort to realize network slicing. The outcome of our demonstration will contribute to the promotion of consideration within the O-RAN Alliance.
KDDI drives the "integration of telecommunications and life design." While moving with society toward a future of sustainable growth and development, we promote technology development related to 5G based on the knowledge obtained through this demonstration. Through the provision of even more easy to use and highly reliable communication services, KDDI will contribute to increased sophistication in the industry and create new social value.
---