October 23,2018
Ulaanbaatar, Mongolia―On October 1, 2018, KDDI CORPORATION subsidiary MobiCom Corporation LLC announced at ICT EXPO held in Ulaanbaatar that it has launched the "Candy" Payment Card in partnership with major Mongolian bank XacBank.
MobiCom and XacBank concluded a partnership agreement in September 2017, in which XacBank would issues debit cards designed for MobiCom's Candy e-money which rewards customers with Candy points cash-back worth 1% of the value of each purchase.
The Candy e-money service offers Candy cash-back reward when the card is used to pay for MobiCom services and purchases at Candy companies. Each Candy is worth 1 Mongolian tugrug (MNT), and can be used to pay for MobiCom services or purchases at more than 4,500 Candy merchants' online & offline shops.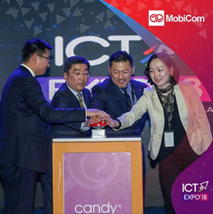 At the ICT Expo on October 1, 2018:
XacBank CEO Boldoo Magvan (2nd from left) and MobiCom CEO Tatsuya Hamada (3rd from left).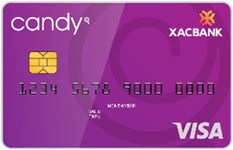 The Candy-XacBank Debit Card
In March 2018, MobiCom introduced Candy Pay, a prepaid e-money service that provides users with easy access to their Candy account through a smartphone app. Candy Pay users can use the app at merchant eco-system within Mongolia, and use QR codes for payments as well. These and other features have attracted interests from the FinTech field.[

1]
Through its latest partnership with XacBank, MobiCom will continue to improve its services while also keeping an eye out for opportunities to provide new telecoms and financial services. This is how MobiCom contributes to development in Mongolia.
---
(Reference)
About MobiCom
MobiCom is a total telecommunications service provider, supplying mobile, fixed line and satellite communication services in addition to a wide range of ICT services, and holds the largest market share [

2] of Mongolia's mobile subscribers.
KDDI has invested in MobiCom from its founding in 1995, making ongoing contributions to development of Mongolia's communications industry. KDDI will apply its accumulated worldwide knowledge and experience to continue powering the growth of MobiCom and Mongolia's telecommunications environment.
History
| | | |
| --- | --- | --- |
| November | 1995 | KDDI, Sumitomo Corporation and Newcom LLC enter the Mongolian market, establishing a joint telecommunications venture |
| March | 1996 | Launched 2G GSM service |
| March | 2009 | Launched 3G W-CDMA service |
| | 2011 | Obtained ISO 9001 quality management system certification |
| | 2012 | Obtained ISO 27001 information security management certification |
| August | 2014 | Launched Candy Point Program |
| March | 2016 | KDDI consolidated MobiCom |
| May | 2016 | Launched 4G LTE high-speed data communication service inUlaanbaatar |
| December | 2016 | Launched Candy e-money service |
| March | 2017 | Launched Candy Message Loan service |
| July | 2017 | Obtained Mongolia's first international standard OHSAS18001 certification for implementation and operation of (MobiCom's) Occupational Health and Safety Management System |
| November | 2017 | Introduced Mongolia's first carrier aggregation in 4G LTE |
| December | 2017 | Received the Grand Prix at the "Entrepreneur Awards" |
| March | 2018 | Honored by the Mongolian National Chamber of Commerce and Industry with the Chamber's Silk Road Award in the Best Socially Responsible Company category. |
| September | 2018 | Mutually connected with the KHUR Mongolian national population database, enabling simplified contractual agreements using fingerprint verification. |
Notes:
---