KDDI CORPORATION
SORACOM Inc.
July 4,2018
KDDI CORPORATION (Headquarters: Chiyoda-ku, Tokyo, President: Makoto Takahashi) and SORACOM Inc. (Headquarters: Setagaya-ku, Tokyo, President: Ken Tamagawa) have announced that SORACOM will participate in KDDI's IoT Worldwide Architecture, which provides comprehensive functionality ranging from IoT connectivity for vehicles, industrial machinery and other devices, to service implementation and data analysis.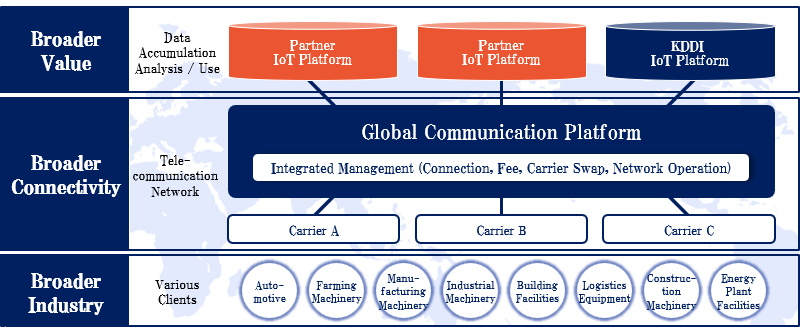 Conceptual image of the KDDI IoT Worldwide Architecture
Announced in June 2018, KDDI's IoT Worldwide Architecture enables integrated service provision of contracting, billing and other processes involved in global IoT telecommunications, which previously required separate negotiations with carriers in each country. With this Architecture, profile data on the SIM embedded in devices can be rewritten remotely to enable direct connectivity with local carriers selected by KDDI. Commercialization of the system is slated for fiscal 2019. By using this Architecture, companies that do business worldwide will be able to integrate management of their IoT connectivity operations without having to concern themselves with differences between carriers' IoT management environments.
Participation by SORACOM in the KDDI IoT Worldwide Architecture will enhance the connectivity of this Architecture through direct connection that KDDI-selected carriers provide as well as through SORACOM Air for Cellular. This global IoT telecommunications service makes IoT connections possible in more than 100 countries and territories using a single SIM.
SORACOM Air for Cellular is available even with a single telecomms line, which makes it easy for small-scale operations to use, and it also enables customers to manage IoT telecommunications themselves through a browser or API. Options include the addition of device management, cloud connectivity and security enhancement functions necessary for IoT systems construction and operation.
Moving forward, the link between KDDI's IoT Worldwide Architecture and SORACOM Air for Cellular will provide a worldwide telecommunications platform for customers who implement IoT business on a global scale.
As KDDI Group works to achieve our goal of integrating telecommunications and life design, we will contribute to our customers' business as a company that is always offering exiting new ideas and creating a new customer experience value.
Ref:

KDDI Offers Integrated Architecture for Worldwide IoT Accelerating New Value Generation, Efficiency for Global Corporations
---