Regarding the wireless power technology, "Cota"
"Cota" is Ossia's unique wireless power technology and is designed with the ability to deliver up to 1 watt of power from a remote distance of up to 10 meters [1].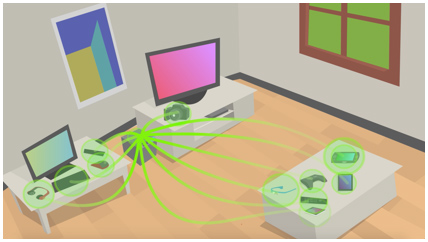 <Key Features>
Operating wirelessly on the 2.4 GHz band (the same frequency band used for Wi-Fi and Bluetooth) the technology has been shown to deliver power to multiple devices in a wide range of coverage.
This technology is capable of charging power even if there is an obstacle or the receiving end is moving.
The receiver is anticipated to be installed for a low cost which makes this technology optimal for IoT devices.
Ossia's development platform allows device makers and developers to develop not only the charger (for transmitting electrical power) and receiver (for receiving the electrical power) but also cloud and mobile application for Cota's data services.
Regarding exhibition at CES 2016
We will be exhibiting a demonstration at "CES (Consumer Electronics Show) 2016" which will be held in Las Vegas in the US.
<Reference> Regarding the market environment
The number of devices connected to the Internet has been increasing every year and in three years from now by 2018, the number of IoT devices on the domestic market is predicted to reach 900 million devices.
(Source: IDC Japan "IDC FutureScape: Global and Domestic IT Market Predictions for 2016")
Further, according to results from a survey conducted on the satisfaction of users in regard to the utilization of smartphones, many were unsatisfied with "how long the battery lasts." In consideration of the increase of IoT devices in the future, it is believed that there is a huge potential need for wireless power charging technologies such as Cota that are free of restrictions regarding time and places for charging devices.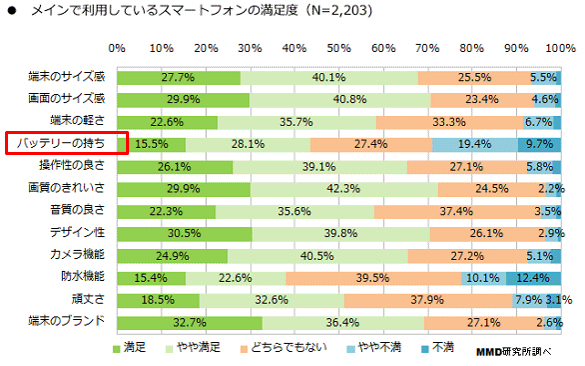 (Source: MMD Laboratories "

Survey regarding Satisfaction and Dissatifaction related to Smartphones" (October, 2015))
Even in surveys conducted overseas, in regard to the size of the market for wireless power charging technologies, while the popularization of devices equipped with a receiver for wireless power charging technologies was merely 20 million devices in 2013, triggered by how wearable devices were released one after another from various companies, such devices have been gaining popularity in an accelerated manner since 2014. The popularization of devices equipped with a receiver is expected to grow to 166 million devices by 2015 to expand the size of the market to 1.7 billion dollars.
(Source:

IHS Technology - Wireless Power Report)
<About Ossia, Inc.>
Company name: Ossia, Inc.
Location: Bellevue, Washington, US
Representative: Hatem Zeine (CEO)
Establishment: September, 2008
Core business: Providing of wireless power charging technology, "Cota"
URL:

http://www.ossiainc.com/
About the KDDI Open Innovation Fund
The "KDDI Open Innovation Fund" is a corporate venture fund, operated by KDDI and Global Brain Corporation, which invests in promising venture companies both in Japan and overseas. Through coordination with KDDI's broad network of numerous companies, marketing skills, and various services such as "au Smart Pass," the fund powerfully supports the growth of companies subject to an investment.
Further, in the US, with an operating base in San Francisco, the fund considers investments in relation to startup companies that have the latest technology or an innovative business model. KDDI Open Innovation made in Ossia in January of 2015. In the event that the Company considers expanding into Japan, the fund will provide extensive support with business development, marketing, localization, etc.
For further information regarding the "KDDI Open Innovation Fund," please visit the following website:


http://www.kddi.com/ventures/koif/
---