- Able to use WiMAX2+ with no speed constraints -
No.2013-184
KDDI CORPORATION
Okinawa Cellular Telephone Company
October 2,2013
KDDI and Okinawa Cellular have announced plans to release the Wi-Fi WALKER WiMAX2+ mobile router (manufactured by HUAWEI TECHNOLOGIES CO., LTD.), which is the industry's first data communication device to support WiMAX2+, starting on October 31, 2013 (planned). [1]
The Wi-Fi WALKER WiMAX2+ is a triple-hybrid model that supports not only WiMAX2+ for high-speed data communications at a maximum downlink speed of 110 Mbps [2], but also WiMAX and 4G LTE. In addition, WiMAX2+ and WiMAX can be used with no speed constraints [3]. In addition to enabling high-speed communications anytime and anywhere, the device features user-friendly setting menus and large buttons that make operation simple even for first-time router users.
The device is also equipped with features that support various styles of usage, including a quick startup that takes about 5 seconds, a Quick Access function that enables usage without removing the device from your bag, and compatibility with a wireless charger (Qi) that charges the battery when you simply place the device on the charging pad.
In addition, by applying the WiMAX2+ Cost-Saving Discount, customers can use the device at a monthly rate of ¥3,880 (tax included) for up to 25 months. Further savings are possible with au Smart Value mine [4], which allows customers to combine the router contract with an au smartphone contract for a discount of up to ¥980 (tax included) per month on their au smartphone usage fees.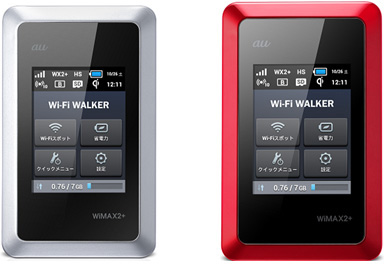 For more details, see the Attachment.
Attachment:KDDI to release Wi-Fi- WALKER WiMAX2+, a powerful mobile router that supports WiMAX2+, WiMAX, and 4G LTE <Attachment>
---