1. Overview of service
Comprehensive media service for smartphone games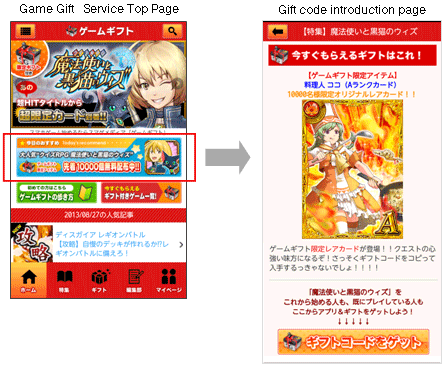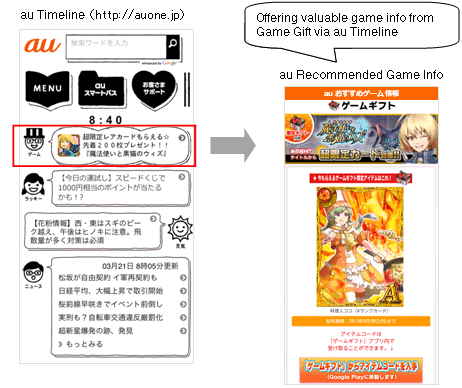 2. Features
Game Gift distributes information catering to both game beginners and hard-core users with a focus on information with high added value, such as information on limited items and advance information on game releases, provided from publishers of major Japanese games, including Quiz RPG: The World of Mystic Wiz, Puyopuyo!! Quest, and DRAGON COLLECTION, all of which boast over 4 million downloads. Game information on about 50 titles and limited items for about 10 titles are to be distributed as of the start of service provision (limited gifts will be distributed every week thereafter).
3. Service start date
August 29, 2013
4. Fee
Free
5. Applicable models
Smartphones and tablets with Android (TM) OS 2.2 or later
6. How to access
Search for "Game Gift" from "Google Play (TM)."
7. Partner companies and organizations
(1) Content cooperation
(In the order of Japanese syllabary)
Akatsuki Inc.
Cinderella Eleven
ACQUIRE Corp.
ROAD TO DRAGONS
Asobism, co. ltd.
Title to be announced
ASOBIMO, Inc.
AVABEL ONLINE
Iruna Online
Aurcus Online
Celes Arca
FrontierGunners Online
Ellicia Online
Puchitto! Online (Petit Chronicle)
Applica, inc.
Title to be announced
Ambition Co., Ltd.
Demon King Adventures
e-Dragon Power
Title to be announced
Ateam Inc.
Derby Impact
Dark Labyrinth
War of Legions
Alim Co., Ltd.
BRAVE FRONTIER
Aiming Inc.
Lord of Knights
Senki Imperial from Eiyuu*Senki
enish, Inc.
Title to be announced
NHN PlayArt Corp.
Magic & Monsters
and other titles
CAPCOM Co., Ltd.
Title to be announced
KAYAC Inc.
Quiz Kingdom
Bokura no Koshien!
gumi Inc.
Title to be announced
KLab Inc.
Shin Sengoku Buster
Lord of the Dragons
Eternal Uprising
GREE, Inc.
Title to be announced
CLINKS Co., Ltd.
Soranoark: Tenkai no Labyrinth
CROOZ, Inc.
Title to be announced
Glu Mobile, Inc.
Title to be announced
Grenge, Inc.
Title to be announced
Konami Digital Entertainment Co., Ltd.
DRAGON COLLECTION
COLOPL, Inc.
Quiz RPG: The World of Mystic Wiz
CYBIRD Co., Ltd.
Barcode Footballer
IKEMEN Royal Palace―Midnight Cinderella―
New Chapter IKEMEN O-OKU―Forbidden Love
IKEMEN O-OKU―Garden of Love―
Ikemen Koisen―Taira no Kiyomori
IKEMEN Nocturne―Romeo and Secret Juliet
GMO Internet, Inc.
Sumasaka By GMO
GMO GameCenter, Inc.
Gensou no Minerva Knights
Knights of Excalibur
Disgaea Legion Battle
Silicon Studio Corporation
MONSTER TAKT
SEGA Networks Co., Ltd.
Puyopuyo!! Quest
Kingdom Conquest II
CHAIN CHRONICLE
Border Break Mobile: Gun Front Hurricane
Gentou Senki Griffon
DRAGON COINS
Champion Football
DERBY OWNERS CLUB
Sony Music Entertainment (Japan) Inc.
Title to be announced
Dyno Entertainment, Inc.
Title to be announced
dango Inc.
Magic & Monsters
and other titles
D2C Inc.
Sekigahara Engi
Gale of the Bakumatsu
Legend of the three kingdoms
NBA Dream Team
WAKES OF AVENGIA
Pirates Fantasia
Valkyrie Blade
Brave Knights
DeNA Co., Ltd.
Blood Brothers (RPG)
D.O.T.
Dimps Corporation
PIPE & QUEST
Donuts Co., Ltd.
Bosoretsuden: Tansha no Tora
Drecom Co., Ltd.
FANTASISTA DOLL GIRLS ROYALE
NewsTech Inc.
Pocket Soccer Club
Nubee Tokyo Co., Ltd.
Valkyrie Crusade
Sengoku Card Conquest
Butterfly Corporation
Title to be announced
FURYU CORPORATION
Title to be announced
Frontier Works Inc.
Gyakushuu no Dragon Rider
Pokelabo, Inc.
SWORD OF PHANTASIA
Devils Academy Catastrophe
Mynet Inc.
Emblem of Falkyrie
Kizuna Battle
Angel Master
Marvelous Inc.
Title to be announced
MEDIA FACTORY
Title to be announced
MOBY DICK
Furusato Jieitai
Mobile Factory, Inc.
Title to be announced
mobcast inc.
Title to be announced
YAMAHA MUSIC MEDIA CORPORATION
Soranoark: Tenkai no Labyrinth
Ubiquitous Entertainment Inc.
Title to be announced
Link Kit, Inc.
Samurai Defender
(THE) ONE of THEM, Inc.
GotchaWarriors
(2) Media cooperation
Provision and Project Collaboration on Content (In the order of Japanese syllabary)
East Press
IntroM Co., Ltd.
Saipuro
Social Game Info Inc.
PRHYTHM VISION, INC.
MUGENUP Inc.
Lawson, Inc. ("Start in Two Minutes" series)
---