―Connecting KDDI Customers, Wherever You See the Sky―
August 30,2023
(Updated September 5, 2023)
KDDI and SpaceX today announced an agreement to to provide satellite-to-cellular service leveraging SpaceX's Starlink low earth orbit satellites and KDDI national wireless spectrum nationwide. This will enhance KDDI's cellular connectivity to areas beyond the limits of traditional powerful 4G and 5G networks including remote islands and mountains. KDDI and SpaceX have a common vision of "connecting the unconnected" to empower customers to stay connected, and this new dimension of connectivity will turn on areas previously unreachable by cell signals from any provider.
The companies plan to start with SMS text services as early as 2024 and will eventually provide voice and data services. Almost all existing smartphones on KDDI network will be compatible with this new service as it employs the device's existing radio services.
"Since the partnership announced in 2021, KDDI and SpaceX have worked together to expand the cellular coverage, leveraging Starlink, with the shared vision of connecting the unconnected, "said Makoto Takahashi, President and CEO of KDDI. "In order to move into a new dimension of coverage, we are developing a next-generation satellite communication service in collaboration with SpaceX, aiming to enable your smartphone to connect wherever you see the sky."
"This is super exciting that KDDI is now our first direct-to-cell partner in Asia, following a long-standing relationship with the company for the use of cellular backhaul and as a Starlink enterprise reseller," said SpaceX SVP of Commercial Business Tom Ochinero. "This service will be a game changer for all domestic KDDI subscribers. With our partnerships around the world, KDDI subscribers will be able to extend their communications overseas without having to change networks. We are looking forward to adding even more operators all around the world." (Updated September 5, 2023)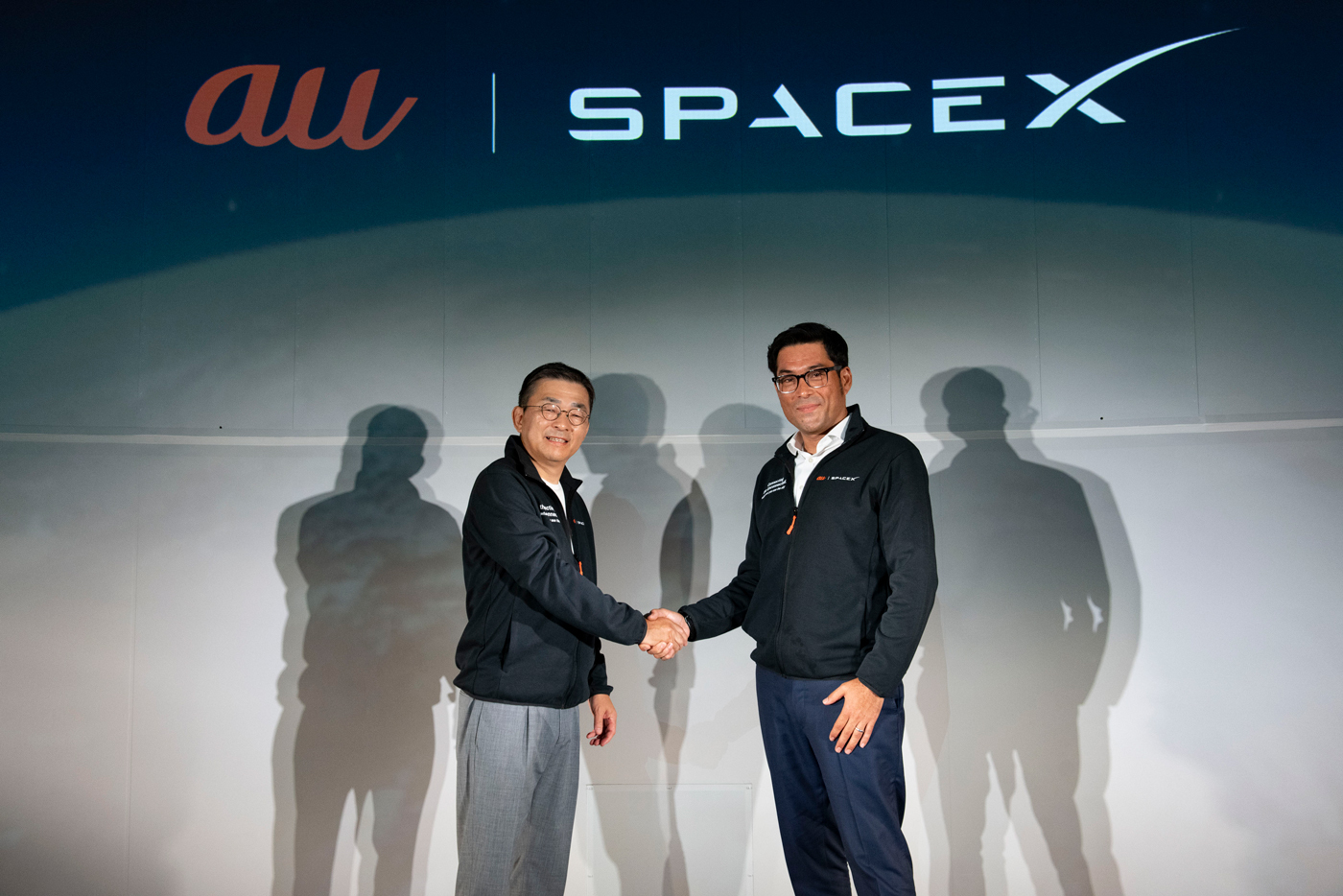 KDDI and SpaceX also invite carriers worldwide to join the ecosystem of mobile network operators, bringing next generation satellite enabled connectivity to their customers.
(Reference)
■About KDDI
KDDI's au network enables our customer's daily lives and helps them share unforgettable moments. We are proud of providing 99.9% "population coverage" to the people of Japan. Unfortunately, only a small portion of the Japanese land mass is habitable and often it is difficult to use traditional technologies to provide coverage from coast to coast. Our extensive network continues to grow in coverage as we deploy more fiber and satellite backhauled base stations. In addition to our continued efforts, we will provide "connecting the unconnected" experience, by enabling smartphones to connect to satellites.
■About Starlink by SpaceX
Starlink delivers high-speed, low-latency internet to users all over the world. As the world's first and largest satellite constellation using a low Earth orbit, Starlink delivers broadband internet capable of supporting streaming, online gaming, video calls and more. Starlink is engineered and operated by SpaceX. As the world's leading provider of launch services, SpaceX is leveraging its deep experience with both spacecraft and on-orbit operations to deploy the world's most advanced broadband internet system, as well as a Direct to Cell constellation of satellites to provide connectivity directly to unmodified LTE cell phones.
---