―Visitors can experience simulated sightseeing with smart glasses will be set up at Kansai International Airport―
February 28,2023
On February 28, 2023, KDDI and JTB Corp. (President and CEO: Eijiro Yamakita, hereinafter "JTB") signed a "Memorandum of Understanding (MOU) for the Implementation of Digital Transformation Measures to Solve Potential Issues in Tourism after Covid-19 Pandemic" with the aim of revitalizing tourism business by utilizing digital devices and solution centering on Smart Glass.
The two companies will utilize smart glasses as well as various other digital devices and solutions to send visitors to the region by providing content that allows them to experience the region's attractions, with the aim of recovering inbound tourism.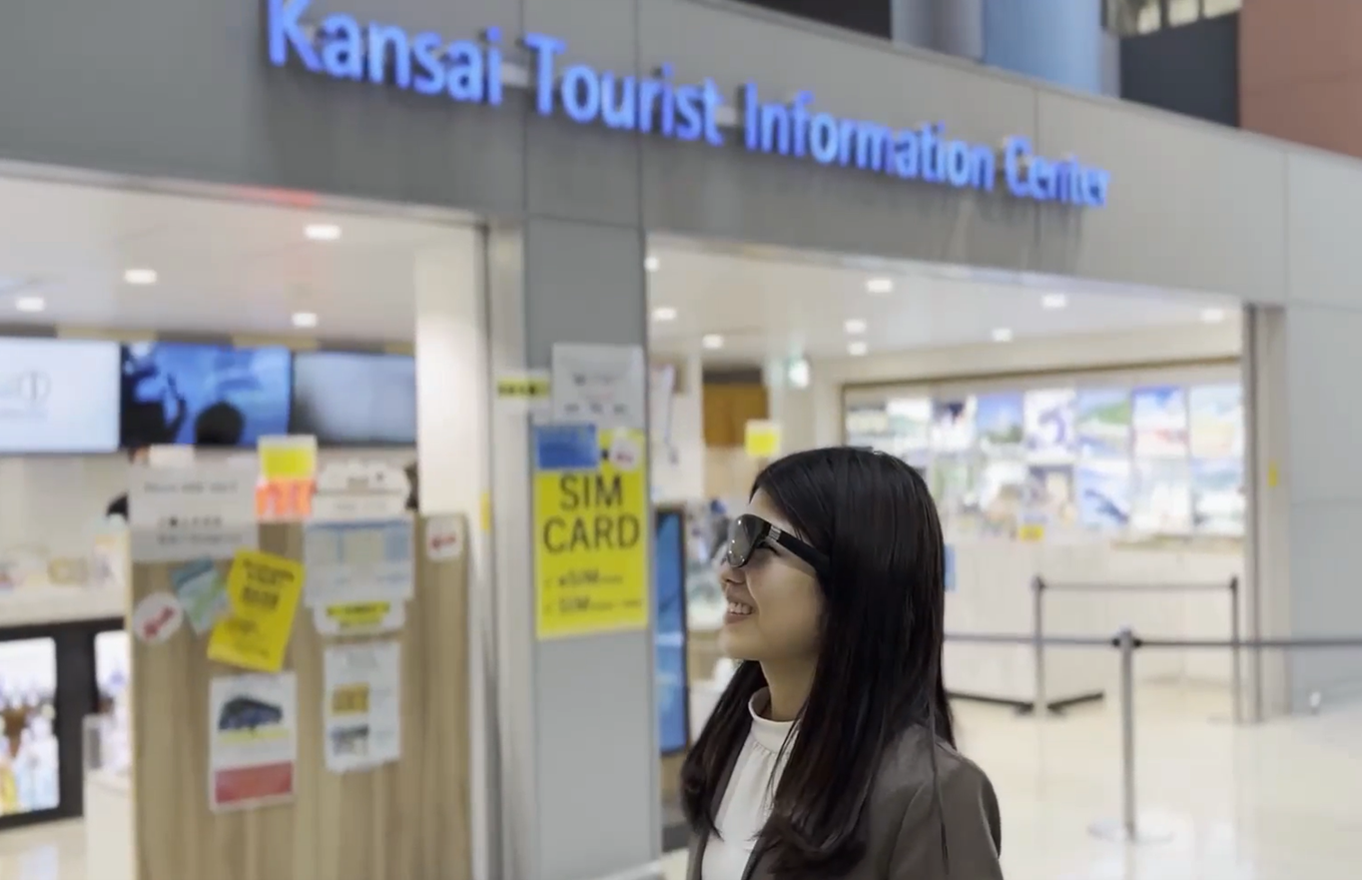 ■Background
The impact of Covid-19 Pandemic has resulted in a significant decline in tourism demand. In order to achieve a full-fledged inbound recovery the Japan Tourism Agency has announced a policy to promote the enhancement of contents that attract domestic and foreign tourists to stay longer and the improvement of the reception environment using advanced technology all at once, based on the premise of thorough measures to prevent the spread of infection [

1].
■What is planned
JTB's tourism network and KDDI's "

au Visual Guide" (in Japanese only) and other solutions to implement digital transformation measures to solve the challenges that Tourism business faces.
■First initiative: Set up a simulated regional tourism experience booth at Kansai International Airport
As the first step of this MOU, a "Regional Tourism Simulation Experience Booth with Smart Glass" (hereinafter "booth") will be set up at the Kansai Tourist Information Center in Kansai International Airport (hereinafter KTIC KIX) from March 10, 2023.
KTIC KIX is located at the gateway to the Kansai region, which is expected to become even more exciting in the near future with the Osaka-Kansai Expo. Approximately 2,500 (as of January 2023) [

3] foreign visitors come to Japan daily via Kansai International Airport. At this booth, we will provide contents that allow visitors to view the scenery of sightseeing spots such as Kobe and Shiga by utilizing AR technology of smart glasses. Those short videos are provided by local governments. By combining an immersive visual experience using XR technology with attractive content, we hope to attract visitors to each area.
KDDI will continue to work with JTB to create new tourism experiences utilizing smart glasses and XR technology.
(Reference)
■About JTB
Today's JTB traces its roots back to Japan Tourist Bureau, an agency formed in 1912 for the purpose of servicing the ticketing needs of foreign tourists in Japan. Over the span of its first 100 years, JTB steadily evolved into a travel and tourism industry leader. Through vision, integrity, innovation and unsurpassed know-how, the JTB Group consistently creates unparalleled value for its stakeholders.
■KDDI's efforts
KDDI is working to create new use cases through smart glasses, aiming to deliver new experience value by utilizing 5G and XR.
At MWC Barcelona on February 28, 2023, KDDI announced its participation in Snapdragon Spaces (TM), a development platform for smart glasses proposed by Qualcomm Inc. KDDI will continue to collaborate with partners on XR technology to create new experience value.
---