―Innovating with green startup partners to address climate change―
October 27,2021
KDDI, in collaboration with SBI Investment Co., Ltd. (Headquarters: Minato-ku, Tokyo, Representative : Katsuya Kawashima), a wholly owned subsidiary of SBI Holdings, Inc. (Headquarters: Minato-ku, Tokyo, Representative Director, President & CEO : Yoshitaka Kitao) will establish in late November 2021 the "KDDI Green Partners Fund" (hereinafter referred to as "Green Fund"), which will invest in startup companies to tackle a wide range of issues related to climate change. The Green Fund plans to invest approximately 5 billion yen over the next five years in order to contribute to the carbon neutrality goals of KDDI and society.

The effects of global warming are becoming more serious each year; and meteorological disasters are increasing in Japan and the rest of the world. KDDI aspires to "Contributing to the sustainable growth of society" as Company Vision and is working to realize KDDI's and society's goals of carbon neutrality as part of its SDG initiatives. The "KDDI GREEN PLAN 2030" announced in July 2021 sets a CO2 emission target for FY2030 at a 50% reduction compared to fiscal year 2019 and KDDI is promoting initiatives aimed at virtually zero CO2 emissions by 2050.
In addition, the "KDDI Open Innovation Fund" and "KDDI ∞ Labo," with the support of start-up companies and business development through co-creation with various partner companies, KDDI has been working on combining innovative ideas and advanced technologies.
KDDI believes that co-creation with partner companies is crucial to realize a sustainable society. KDDI can leverage its strength of innovation with start-up companies, as well as various sourcing capabilities such as investment project support provided by SBI Investment Co., Ltd. We will establish a fund that makes use of our deep investment experience.
The Green Fund will allow start-up companies working on decarbonization technology, and recycling services that can be deployed across industries, to utilize KDDI's wide variety of assets - not limited to the energy domain - that are directly linked to CO2 emission reduction. By doing so, KDDI aims to realize a resilient future society through co-creation.
KDDI promotes the "integration of telecommunications and life design" and KDDI, as "a company that Contributing to the sustainable growth of society," connects people, companies and society. KDDI will continue to contribute to global environmental conservation in cooperation with various partners.
For details on Green Fund, please refer to the attached sheet.
---
<Attachment>
■Green Fund Overview
| | |
| --- | --- |
| Name | KDDI Green Partners Fund |
| Operation Period | For 12 years until November 2033 |
| Investment goals | Cultivating and promoting Carbon Neutral start-ups |
| Total investment | 5 billion yen |
| Administrator | SBI Investment Co., Ltd. |
■SBI Investment Co., Ltd.
| | |
| --- | --- |
| Establishment date | June 7, 1996 |
| Address | Izumi Garden Tower 19F, 1-6-1 Roppongi, Minato-ku, Tokyo |
| Representative | Mr. Katsuya Kawashima (Representative) |
| Business | Operate and manage venture capital funds |
■KDDI's Efforts
KDDI is determined to continue working to solve various social and environmental issues through its businesses and SDGs. For more information, please visit:

https://www.kddi.com/english/corporate/csr/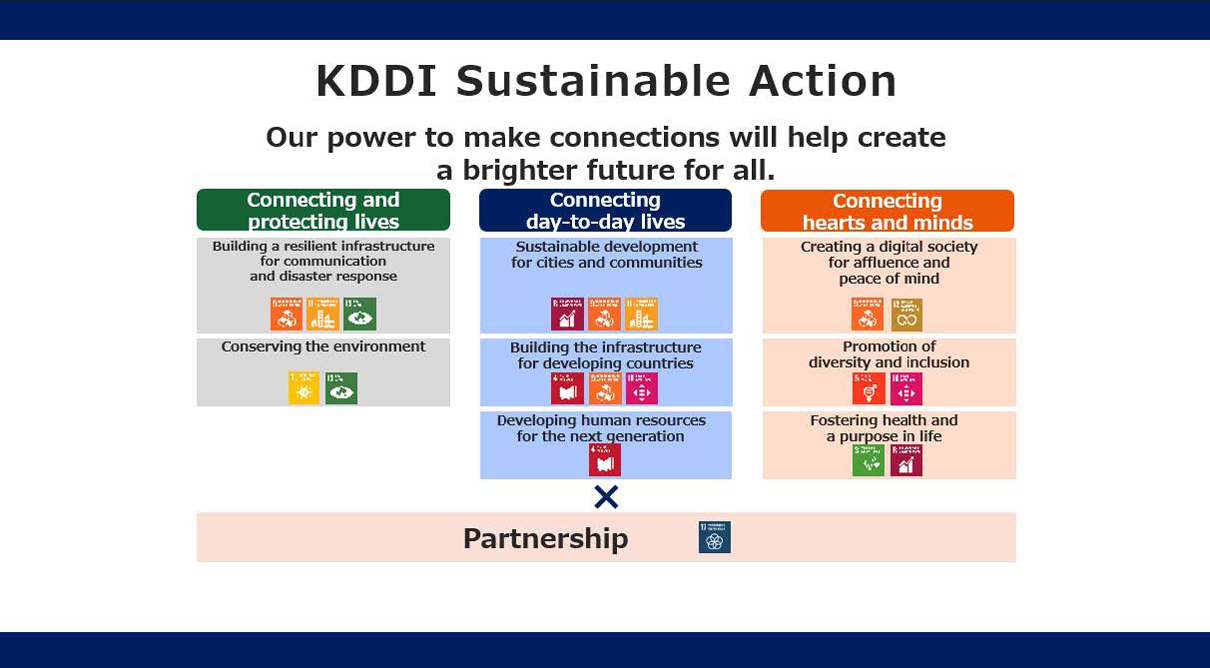 ---