February 10,2021
KDDI CORPORATION (Headquarters: Chiyoda, Tokyo, President: Makoto Takahashi) announces its investment in Swift Navigation Inc. (Headquarters: San Francisco CA, Co-Founder & CEO: Timothy Harris), a company that offers an ecosystem of GNSS positioning solutions for autonomous vehicle, mobile and mass-market applications, to offer centimeter precise positioning for a range of autonomous applications that include automotive autonomy, advanced driver assistance features and connected car, drone, rail, and industrial machinery, through the "KDDI Open Innovation Fund 3" (operated by Global Brain Corporation), which aims to invest in promising venture companies.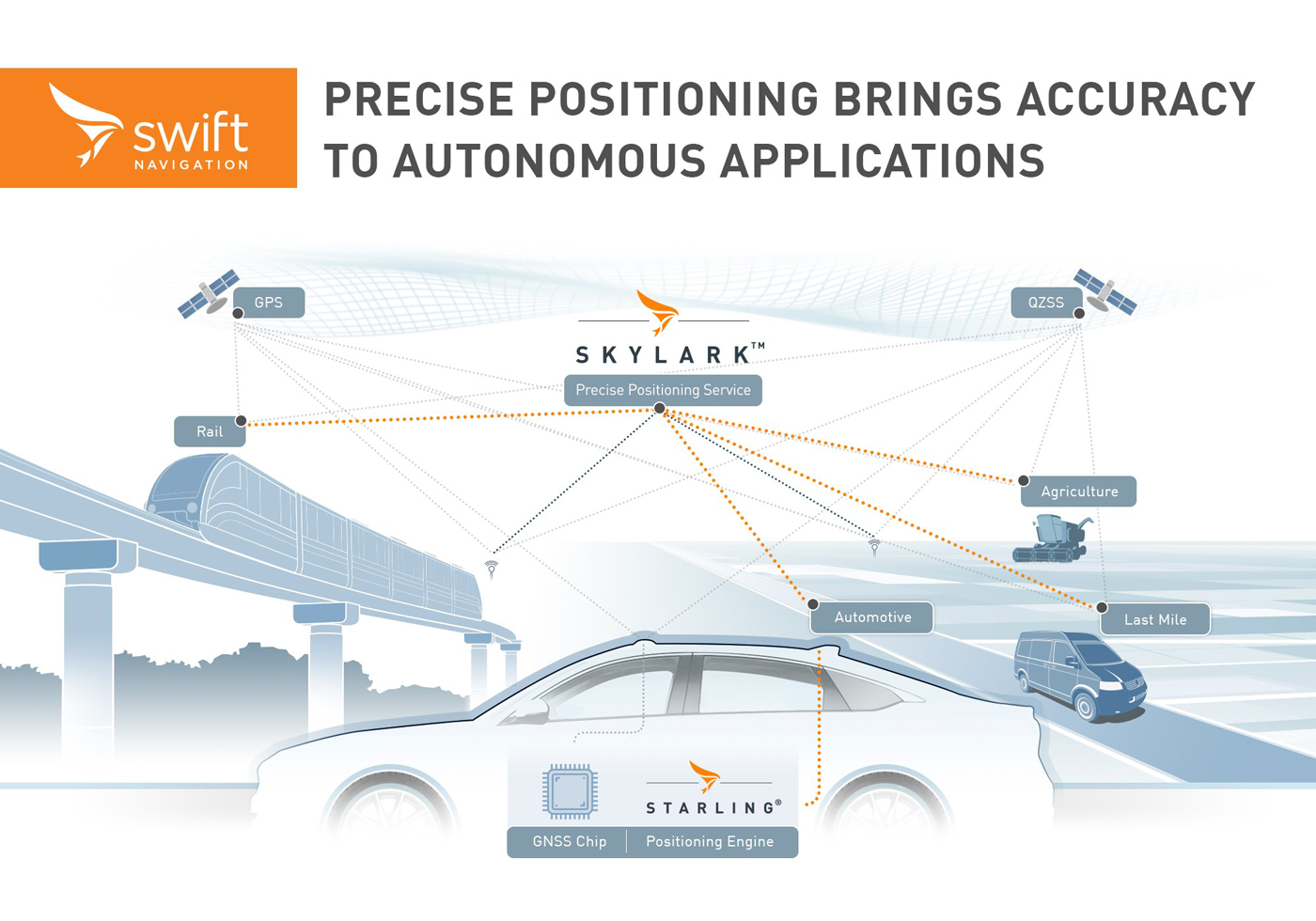 The benefits of integrating autonomous functionality into everyday applications abound. Whether used for self-driving cars, rail fleets, autonomous robotic machine navigation, autonomous flight for unmanned aerial vehicles, last-mile delivery logistics, construction safety, or shared mobile positioning, the requirement to achieve autonomy is accuracy.
Standard GNSS positioning is accurate to three to five meters which is not suitable for such autonomous systems. For higher levels of autonomous capability, high-precision localization is required to deliver accuracy down to the centimeter. Swift achieves this accuracy through its cutting-edge positioning algorithms that provide a continuous stream of multi-constellation (including the U.S. GPS system and Japan's QZSS), multi-frequency GNSS corrections for a highly-available service that delivers high accuracy and world-class integrity at a continental scale.
Swift is already available across the United States and Europe, and is expanding to Asia. KDDI has already done the PoC in Japan with Swift Navigation, and through this investment, KDDI will work with Swift to support its mission, business growth, and development and expansion of precise positioning products for the autonomous future.
As KDDI Group works to achieve its goal of integrating telecommunications and life design, we will serve as a company that is always offering exciting new ideas. In this case we are doing so by generating new value of experience through investments to promote business collaborations on start-up firms developing services on a global scale.
About Swift Navigation
About KDDI Open Innovation Fund
The KDDI Open Innovation Fund is a corporate startup fund that supports a broad range of startups. The currently active KDDI Open Innovation Fund No. 3 has an operational worth of approximately 20 billion yen. It focuses on AI, IoT, big data, and FinTech.
---