―New sleep-monitoring mattress enhances 'with HOME' service.―
KDDI CORPORATION
Okinawa Cellular Telephone Co. Ltd.
March 13,2019
KDDI CORPORATION (Headquarters: Chiyoda, Tokyo, President: Makoto Takahashi) and Okinawa Cellular Telephone Co. Ltd. (Headquarters: Naha, Okinawa, President: Hideo Yuasa) on March 15 are expanding their "au HOME" suite of services with Real Sleep, which supports healthy sleep and adds sukoyaka, ("healthy"), to the "secure," "convenient" and "enjoyable" concepts emphasized by the au HOME service lineup.
The service expansion with Real Sleep makes it possible to use the specialized Real Sleep app with Sleep Monitor 01, the most sensitive sleep monitor available among all health devices. [

1] Sleep Monitor 01 measures the user's sleep state to enable quantitative assessment of sleep quality.
In addition, FRANCEBED Co. Ltd. (Headquarters: Shinjuku-ku, Tokyo, President & CEO: Shigeru Ikeda), has joined the "with HOME" collaborative IoT-based home service suite, resulting in joint development of the FRANCEBED LOOPER RP-5000SE mattress with sleep monitoring function, which also goes on sale March 15 [

2].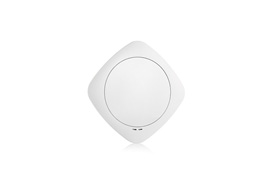 Sleep Monitor 01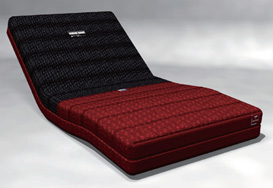 Mattress with sleep monitoring function
Real Sleep is a service jointly developed with partner NeuroSpace Inc. (Headquarters: Sumida-ku, Tokyo, President Takanori Kobayashi), and now also being made avilable. Real Sleep is designed to display sleep states in graphic form, providing access to analytical results that enables personalized expert advice to help each individual customer resolve their sleep issues. [

3] The service includes an optional Telephone Health Consultation service that provides medical consultation and specialist referrals, as well as access to advice from public health nurses, certified nutritionists and other qualified professionals in fields such as mental health, long-term care and pediatric mental health.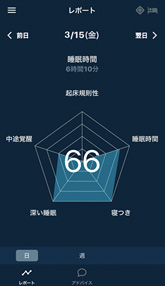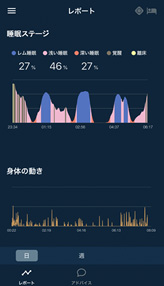 Real Sleep display
As KDDI and Okinawa Cellular work to to achieve our goal of "integrating telecommunications and life design", we will continue to offer exciting new ideas, creating new experience of value through diverse partnerships that help support and enrich the lives of our customers through au HOME services.
See attachments for details.
---
[Attachment]
1. About Real Sleep
2. About FRANCEBED x with HOME
For customers who purchase a mattress with sleep monitoring function, a special plan will be provided which includes a Real Sleep and with HOME service bundle.
3. Background on the sukoyaka ("Healthy") service expansion
According to Neuro Space Inc., which uses state-of-the-art technology to provide people with solutions to their sleep issues, the economic loss associated with sleep issues amounts to ¥15 trillion yen (RAND Corp., November 2016). And research conducted in May 2018 by the University of Occupational and Environmental Health, Japan, indicates that sleep deprivation is the second most common health-related cost associated with "presenteeism" in Japanese industry, reported by 11% of respondents and representing approximately ¥34,000 in losses per person per year, after neck and shoulder stiffness, which was reported by 14% (Nagata T., et al., J Occup Environ Med. [2018]). This reflects the major impact that sleep issues can have on corporate growth and efforts to improve corporate value.
In addition, a sleep deficit survey of 800 male and female subjects ranging in age from their 20s to 50s indicated that more than half (58%) of respondents were dissatisfied in some way with their sleep. The survey results also indicated that sleep satisfaction levels had an impact on daytime productivity. While about 90% of respondents reported being eager to improve their sleep, the results revealed that half of those had taken no action toward that end.
For details, visit Neuro space online at

https://prtimes.jp/main/html/rd/p/000000024.000020114.html.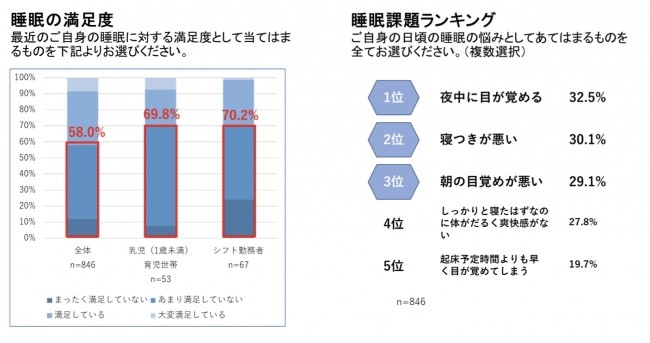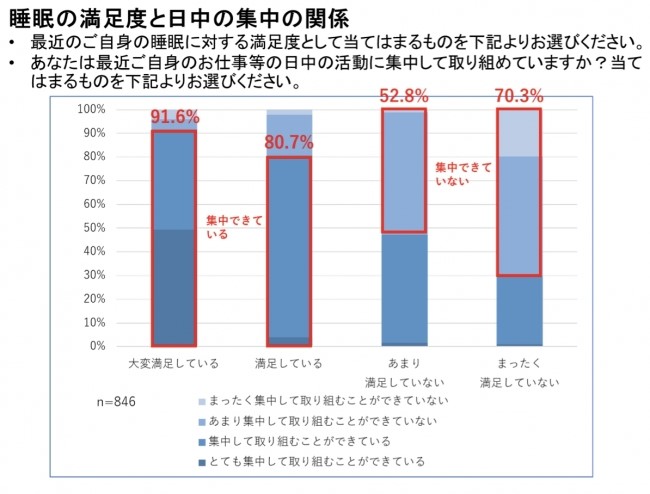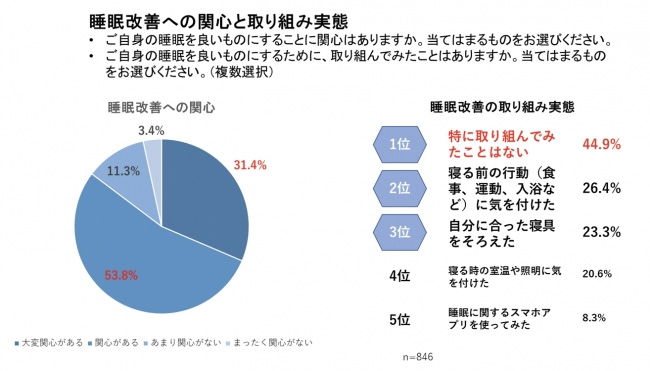 This is how KDDI, FRANCEBED and Neuro Space are working to give customers a good night's sleep by helping them solve sleep issues.
About FRANCEBED Co. Ltd.
The primary business operations of FRANCEBED comprise manufacturing, purchasing, rental and retailing/wholesaling of beds for household use, furniture, bedding products, health-related devices, beds for medical and long-term care use, assistive devices, linen goods, etc. They have begun the first rental service in Japan for long-term care beds. Their proprietary High-density Connecting Spring (R) mattress is specially designed to accommodate Japanese physical characteristics and regional climate conditions. In 2011 they established Reha Tech to help seniors maintain active lifestyles, as part of an overall corporate aim of solving the issues of ultra-aged societies and fostering kindness and more vibrant living.
About Neuro Space Inc.
Neuro Space provides Japan's largest domestic corporations with sleep-improvement programs to help promote healthy corporate management and maximize productivity. They also apply state-of-the-art technology, proprietary sleep measurement devices and analytical algorithms to joint research and development projects with sleep technology ventures.
Notes:
---