December 25,2018
A proposal put forward by KDDI CORPORATION (Headquarters: Chiyoda-ku, Tokyo, President: Makoto Takahashi) for the development of an integrated disaster response system for city, town and village municipalities has been accepted for use in the Cabinet Office Strategic Innovation Program (SIP). Implemented by a joint research team headed by Professor Kenichi Tsukahara, Department of Civil Engineering, Kyusyu University, the program involving seven institutions has now entered its second phase, which addresses issues including strengthening national resilience through disaster prevention and mitigation.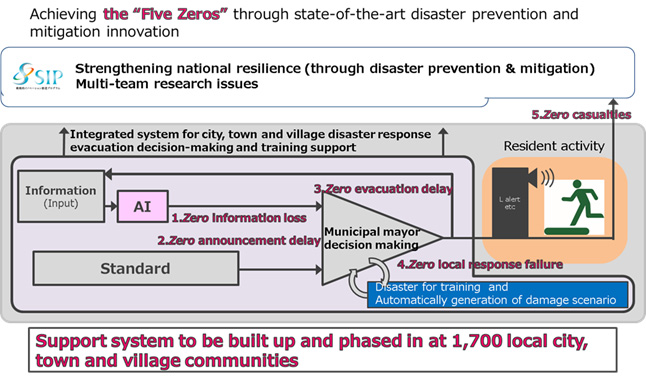 Disaster prevention information systems are now in use by city, town and village municipalities in response to the numerous natural disasters that have become frequent occurrences in many locations. However, the critical information that is necessary for the issuance of evacuation advisories has often been unavailable or poorly distributed. This has prevented the information systems from being fully utilized for the smooth issuance of evacuation advisories and prioritization of emergency action.
This research and development effort incorporates state-of-the-art AI and IoT technology to achieve sweeping solutions to the challenges encountered in evacuation decisions during disaster scenarios and in carrying out preparedness drills during ordinary times. It addresses challenges to decision-making and responsiveness with the goal of zero loss or omission of information critical to evacuation decisions, and zero delay in issuance of evacuation advisories. It also helps geographically fine-tune evacuation notification area units to help ensure that zero residents are subject to delays in escaping a disaster. And it includes the construction of training capabilities to ensure that zero city, town or village municipalities are unable to respond to disasters. By developing an integrated system that achieves these "four zeros" and providing it to every municipality in the country, the overall goal will be to ensure zero casualties among local residents when emergencies occur.
KDDI aims to make the system operational during 2019 with a research and development effort informed by the IoT and Big Data technology know-how accumulated from its work on its "Information Support System for the Government and Local Administrations as a Measure Against Disasters." [

1]
Together with partner companies, KDDI will continue to apply a number of technologies including 5G and IoT to generate new value.
See the attachment for details.
---
[Attachment]
1. Research and development objectives
Research and development objective 1: development of an evacuation decision-making and guidance support system.
Develop support systems that create lead times before the occurrence of flooding, tidal surge, landslide, etc., to anticipate disasters. Apply Big Data and AI technologies to enable city, town and village administrators to establish accurate geographical areas for announcements, and to make timely decisions on the issuance of evacuation advisories and orders.
Research and development objective 2: development of an emergency action support system.
Develop an information distribution system in coordination with research and development objective 1 to support emergency action in times of disaster.
Research and development objective 3: development of an automated system to generate disaster and damage training scenarios.
In order to incorporate frameworks that enhance performance of personnel who use the systems, construct a training platform that enables users to learn and understand decision-making and response methods for the occurrence of disasters and processes to be implemented. Performance will be enhanced through actual training in communication between personnel and the systems that are activated in emergencies (involving researchers providing scientific know-how and experts in the field).
2. Roles of the research and development team members
---