December 22,2016
KDDI CORPORATION (Headquarters: Chiyoda-ku, Tokyo; President: Takashi Tanaka; hereinafter KDDI) announces the conclusion on December 22, 2016 of a business collaboration agreement in the area of contents business in Vietnam with MobiFone Telecom Corporation (Headquarters: Hanoi, Vietnam; CEO: Le Nam Tra; hereinafter, MobiFone), a telecommunications carrier in the Socialist Republic of Vietnam (hereinafter Vietnam).
KDDI and MobiFone will start providing MobiFone Next to MobiFone customers from December 22, 2016. The new app was jointly developed by the two companies to bring greater convenience and benefits to smartphone users.
The MobiFone Next app contains functions that will benefit smartphone users, enabling them to top up their credit balance using QR codes, a first in Vietnam [1], buy contents provided by MobiFone with a single click, and play roulette to win bonus data.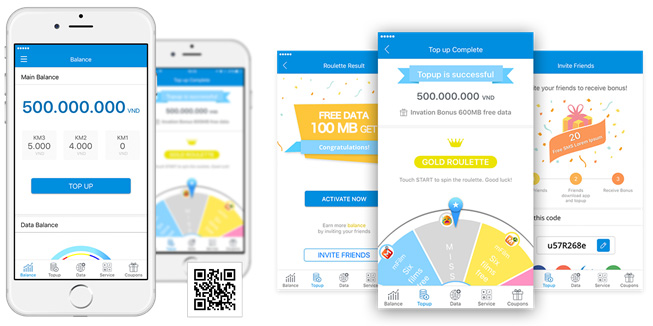 With a population of around 90 million [2] and an average age of 29.2 [3], Vietnam is a market with high growth potential. And with plans to upgrade to 4G, demand is expected to grow for contents and services as well as for smartphones.
MobiFone is Vietnam's second largest mobile network operator with 34.6 million [4] subscribers. Since July 2016 it has focused on the realm of contents business, including launching MobiTV pay-TV service, and it aims to further strengthen its contents business domain in anticipation of the 4G upgrade.
Taking advantage of the experience and technical skills it has built up through its domestic contents business in Japan with au Smart Pass and au WALLET, KDDI jointly developed MobiFone Next with MobiFone. Through MobiFone Next, it aims to contribute to improved MobiFone customer satisfaction and further strengthening of the contents business domain.
Comment from Nguyen Manh Hung, Vice President of MobiFone Telecom Corporation
"We are highly honoured to launch the provision of the new MobiFone Next app with KDDI. By bringing together MobiFone's server development skills and extensive knowledge of the market environment and KDDI's experience in providing reliable apps built up through its value-added service business in Japan and exploiting the strengths of the two companies, we hope that this app will bring greater joy and satisfaction to MobiFone customers."
KDDI will continue to leverage the experience and know-how it has built up in Japan and overseas to contribute to further development of the contents business and the improvement of living standards in Vietnam.
---