―Convenient new features include Smart Sonic Receiver (R) and au WALLET support―
No.2014-186
KDDI CORPORATION
Okinawa Cellular Telephone Company
October 27,2014
KDDI and Okinawa Cellular have announced plans to release MARVERA2, a new au feature phone that features an elegant, user-friendly design, a high-sensitivity 8.08-megapixel camera, and a high-definition 3.2-inch LCD screen. The new model is scheduled to be released in early December 2014.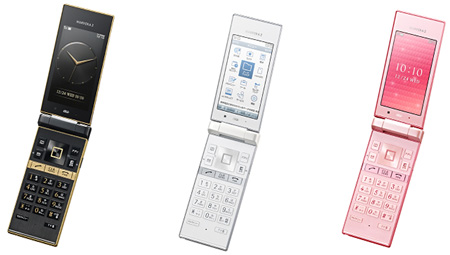 The MARVERA2, which boasts the same user-friendliness of the previous MARVERA model, is equipped with a host of new features, including an address book with expanded capacity to store up to 2,000 contacts, the highly praised Smart Sonic Receiver (R), which makes it easy to hear the caller even in noisy environments, and a power-saving mode that is simple to configure. MARVERA2 also provides greater convenience with support for new au services, such as the ability to charge up an au WALLET electronic money card and check the points, and the ability to directly access Select Pack, which provides unlimited use of exclusive au services.
In addition, the high-sensitivity 8.08-megapixel camera lets users enjoy taking and viewing beautiful photos, and the high-speed Snapdragon (TM) CPU enables smooth, comfortable operation. Furthermore, users can choose to adorn the MARVERA2 with decoration sets that include attractive stickers and battery cover replacements, which are available in the au +1 collection of official au accessories.
For more details, see the Attachment.
Attachment:KDDI to release MARVERA2, a user-friendly au feature phone with easy-to-hear sound, long battery life, and high performance!
---