- au is the only carrier to offer smartphones that support VoLTE, carrier aggregation, and WiMAX 2+ -
No.2014-187
KDDI CORPORATION
Okinawa Cellular Telephone Company
October 27,2014
KDDI and Okinawa Cellular have announced plans to release two new 4G LTE (au VoLTE compatible) smartphone models, the isai VL and URBANO, which are the first au smartphones to support VoLTE, carrier aggregation, and WiMAX 2+. The models are scheduled to be released in early December 2014.
The isai VL is equipped with a large 5.5-inch ultra-high resolution WQHD display, which has 1.8 times the resolution of Full HD and provides a crisp, realistic picture. In addition, the isai Motion interface lets users obtain information about special offers and bonus au WALLET points that are available at nearby shops, restaurants, and events, simply by shaking the device. The isai VL also features the popular functions of the previous isai FL model, such as the ability to freely change wallpaper and icon settings, create collages from pictures in the gallery, launch apps, and perform other actions with a simple shake.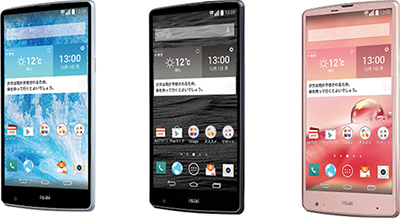 The URBANO features a display constructed with Dragontrail (R) X high-strength glass, and it boasts excellent impact resistance that prevents the display from cracking if the device is dropped. The URBANO also includes a rapid charging desktop holder (max. 3.1A) that can charge a depleted battery to approximately 50% in as little as 30 minutes. Furthermore, the elegant design incorporates metal into the main buttons, side buttons, and camera ring, and the main buttons feature illuminated text and icons. These features further enhance the high-quality feel and usability that are characteristic of the popular URBANO series.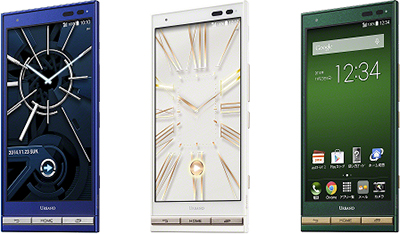 These two new smartphones are the first au models in Japan to support the latest LTE technology, including VoLTE, which enables voice calls with high-quality sound, as well as carrier aggregation, which uses multiple frequency bands to achieve high-speed data communications at a maximum downlink speed of 150 Mbps, and WiMAX 2+, which provides a maximum downlink speed of 110 Mbps. [1]
With a broad area that has a population coverage rate of 99% (800 MHz platinum band), customers can comfortably enjoy voice calls with high-quality sound, or browse the Internet and watch online videos at high speeds, whenever and wherever they choose.
 The isai VL and URBANO models will go on display from October 28, 2014 at the KDDI Designing Studio (Harajuku, Tokyo), au NAGOYA (Sakae, Nagoya), au OSAKA (Umeda, Osaka), and au FUKUOKA (Tenjin, Fukuoka).
For more details, see the Attachment.
Attachment:KDDI to release two new smartphones that are Japan's first to support all of the latest LTE technology!
---