No.2014-0152
KDDI CORPORATION
Okinawa Cellular Telephone Company
August 28,2014
KDDI and Okinawa Cellular have announced that the total number of applications for the au WALLET Card service exceeded 5 million on August 27, 2014.
A great number of customers have signed up for the au WALLET Card service since KDDI began accepting applications on May 8, 2014, and the total number of applications reached 5 million more quickly than any other au service in history [1]. Furthermore, KDDI has announced that more than 20 million au ID numbers, which customers use to access various au services, have been issued.
As a gesture of customer appreciation, KDDI is conducting the au Lucky Sale in the au Shopping Mall starting August 29, 2014. The sale offers customers an opportunity to save money and accumulate up to 40 times more points than usual when purchasing a variety of popular products, including home appliances, gourmet food items, and brand-name goods.
In the future, KDDI will continue its efforts to provide a variety of services that customers can use seamlessly in their daily lives, both online and in the real world, by expanding services and strengthening partnerships with au WALLET, as well as with au Smart Pass, which is already used by more than 11 million customers.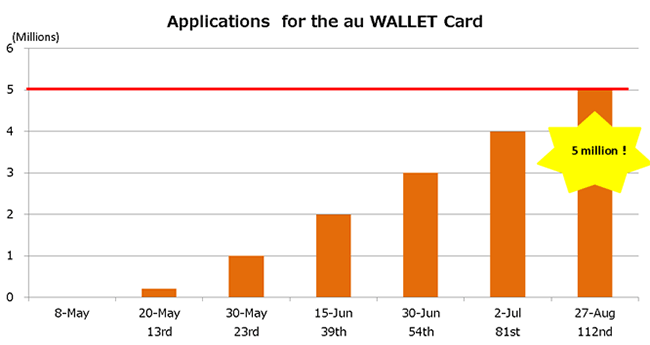 ---