—Additionally, 5 MP front-facing camera for beautiful selfies—
No.2014-135
KDDI Corporation
Okinawa Cellular Telephone Company
July 31,2014
KDDI and Okinawa Cellular will market the newest "HTC J butterfly" model (manufactured by HTC Corporation) as early as late August.
The internationally popular HTC is the first in the world to develop a smartphone powered by Android (TM). HTC J butterfly is the fourth installment of au-exclusive models developed by HTC especially for the Japan market. While sustaining the intuitive and pleasing feel of operation that HTC is known for, this is compatible with carrier aggregation, which applies the LTE next-generation high-speed transmission standard "LTE-Advanced," as well as "WiMax 2+," which has maximum possible download speed of 110 Mbps, and meets the IPX7 waterproof standard, so it can be used easily in any situation.
The main camera has 13 MP and 2 MP lenses that capture depth like human eyes. This "Duo Camera" also provides a 3D effect and the ability to change focus after shooting the photo. The phone also has a built-in 5 MP front-facing camera, making it possible to take astonishingly beautiful selfies.
With the bundled "JBL (R) High-Performance In-Ear Headphones" built for accurate high-resolution sound quality that is similar to the original music, you can enjoy compelling and vivid sound, not only with music, but also with videos and games with this high-spec smartphone.
By using "HTC Sense," an intuitive user interface that makes smartphone use easier than ever, and the special "Dot View" smartphone case from the official au accessory "au +1 collection," you can confirm various notifications without even opening the case. The combination of an endearing dot design and pleasing operability make this smartphone fun to take with you.

This new HTC J butterfly is scheduled to be unveiled at HTC Conference Tokyo 2014 held August 19, 2014 by HTC Nippon Corporation (Head office: Minato-ku, Tokyo; : Ryoji Murai)
HTC J butterfly colour variation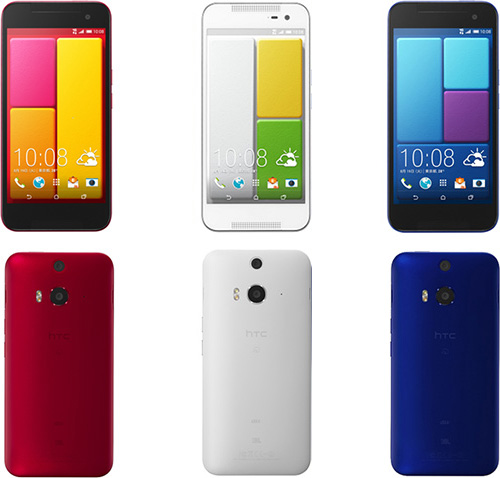 Dot view case colour variations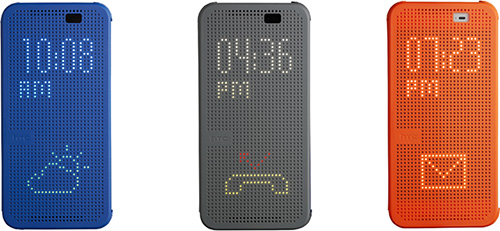 For more details, see the Attachment.
Attachment:Featuring a "Duo Camera" with a dual lens for photos with more depth! Introducing the new "HTC J butterfly"
---