1. Game Gift
Game Gift, offered by ABC, is a new sensation game media service that offer good deals (or gifts), such as free distribution of items from popular games, strategy guides, featured reviews, and information on advanced reservations for upcoming games. Through a business partnership with KDDI in August 2013, Game Gift is jointly developed and run to provide an environment where smartphone users can get more fun out of the newest popular games. As of today, the service has reached 500,000 downloads.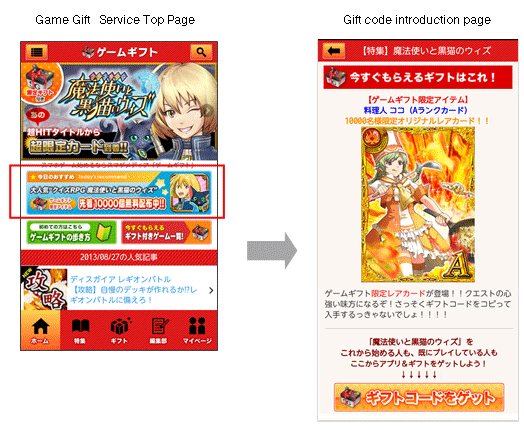 Game Gift (in Japanese only)
<About AppBroadCast Co., Ltd.>
| | |
| --- | --- |
| Company name | AppBroadCast Co., Ltd. |
| Location | 5-4-27 Minamiaoyama, Minato-ku, Tokyo |
| Representative | President Masashige Obara |
| Founded | January 23, 2013 |
| Business | Marketing support business, media planning/operating business for smartphones |
| Website | http://www.appbroadcast.jp/ (in Japanese only) |
2. Filmarks
Filmarks, offered by TSUMIKI, Inc., is a social film review service for movie fans where users can post their reviews, tag movie clips matching their interests, and read reviews by friends and other users. Since its release in August 2012, a total of more than 1.3 million movie reviews have been posted. Through the business partnership with TSUMIKI, Inc., which offers Filmarks, KDDI aims to provide an environment that offers customers a more enjoyable experience by using such reviews when viewing images and videos on their smartphones.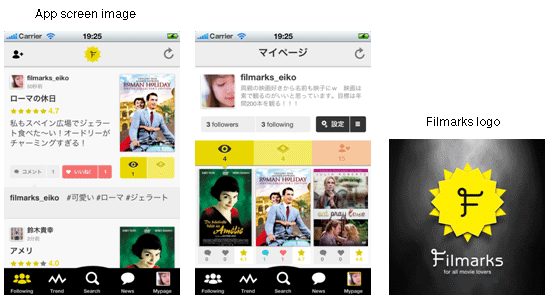 Filmarks (in Japanese only)
<About TSUMIKI, Inc.>
| | |
| --- | --- |
| Company name | TSUMIKI, Inc. |
| Location | 5-2-5 Taishido, Setagaya-ku, Tokyo |
| Representative | President Takayuki Suzuki |
| Founded | May 5, 2008 |
| Business | Development and operation of social film review service "Filmarks" |
| Website | http://tsumikiinc.com (in Japanese only) |
---