KDDI CORPORATION
Okinawa Cellular Telephone Company
October 24,2013
Together with nanapi Inc., KDDI and Okinawa Cellular Telephone Company will start "Moyamoya nanapi for au", a user-participatory service where au Smart Pass members respond to each others' casual day-to-day questions, on October 25, 2013.
au Smart Pass has more than 8 million users. In June 2013, au Smart Pass was redesigned as an information portal that offers a new experience of accessing the latest information of any genre at all times. At the same time, the au Smart Pass General Assembly started, developed on the concept of creating a better service by including customers as stakeholders. In addition, more than 200 releases of How-to content owned by nanapi, operating the largest how-to information provision service in Japan with more than 15 million users, have been posted via timelines and were well-received. In July 2013, KDDI invested in nanapi through the KDDI Open Innovation Fund.
This time, by making nanapi's "Moyamoya nanapi" available for au Smart Pass, KDDI aims to offer a new community style where au Smart Pass users ask and respond to each others' day-to-day questions to resolve the questions and create a database of information.
KDDI will continue to deliver useful information to our customers from our timeline, drawing on nanapi's know-how.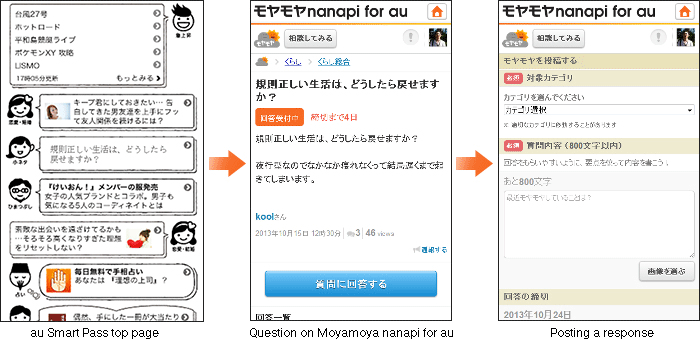 1. Service start date
October 25, 2013
2. Fee
Free
3. Applicable models
au smartphones [1], au Android (TM) tablets [2]
4. How to access the service
From the au Smart Pass top page, select [MENU] -> [au Services and Support] -> [au Services] -> [Moyamoya nanapi for au]
OR
Access from question articles posted on the timeline of the au Smart Pass top page.
5. Service logo

---