―Real-time smart meters provide visibility, improve efficiency―
May 16,2018
KDDI CORPORATION (Headquarters: Chiyoda, Tokyo, President: Makoto Takahashi) subsidiary KDDI VIETNAM CORPORATION (Headquarters: Hanoi, President: Satoshi Oishi) conducted successful verification tests on March 21-22 of an IoT-based electric power metering system within the

DEEP C Industrial Zone in Haiphong, northern Vietnam. It is the first time an IoT system of this kind has been used at an industrial zone in Vietnam. On May 15, a memorandum of understanding (MOU) was concluded with Dinh Vu Industrial Zone Joint Stock Company (Headquarters: Haiphong, General Director: Frank Wouters) on implementing IoT-based services at DEEP C Industrial Zone.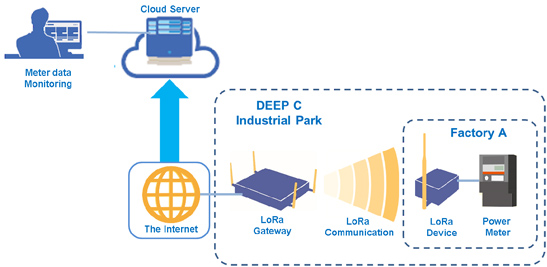 <Image of verification tests>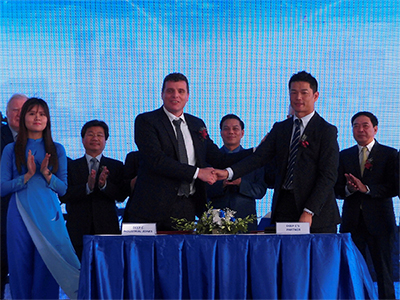 <Mr. Frank Wouters, president of Dinh Vu Industrial Zone Joint Stock Company (left front), KDDI VIETNAM CORPORATION General Director Satoshi Oishi (right front), and Haiphong Mayor Nguyen Van Tung (rear center) at MOU signing ceremony. May 15, 2018, Haiphong.>
Numerous Japanese companies have opened business locations in Haiphong, the largest port city in northern Vietnam. The DEEP C Industrial Zone is affiliated with the Dinh Vu Industrial Zone, and features port facilities as well as cost-competitiveness and geographic advantages. Also on May 15, DEEP C Industrial Zone II celebrated its opening, a second facility expected to attract companies not just from Japan, but also South Korea, Taiwan, China and Europe as well.
In setting up advanced electric power metering at DEEP C Industrial Zone, which features IoT-enabled remote monitoring, KDDI VIETNAM is conducting verification tests of the LPWA (LoRa) [

1] system. Connecting electric power meters to LoRa devices has made it possible to transmit data wirelessly to the LoRa gateway approximately four kilometers away, successfully gathering monitoring data in real time. This obviates the need for site visits by staff to read meters and check the operational status of hardware, while enabling more efficient use of electric power. And since it also enhances convenience for DEEP C Industrial Zone customers, plans call for collaboration in LPWA-enabled remote monitoring of smart meters, security, wind-power generation and other features.
As KDDI Group works to achieve its goal of integrating telecommunications and life design, it strives to be a company that is always offering exciting new ideas. We provide powerful support for the global business operations of our client companies, creating new customer experience value.
(Ref.) DEEP C Industrial Zone
| | |
| --- | --- |
| Name | DEEP C Industrial Zone |
| Location | Haiphong, Socialist Republic of Vietnam |
| Operational org. | Dinh Vu Industrial Zone Joint Stock Company (Vietnam) |
| Estd. | April 1997 |
| President | Frank Wouters |
| Employees | 110 |
| Key Activities | Industrial property development, operation, promotion |
(Ref.) KDDI VIETNAM CORPORATION overview
| | |
| --- | --- |
| Name | KDDI VIETNAM CORPORATION Headquarters |
| Location | Hanoi, Socialist Republic of Vietnam |
| Estd. | March 2000 |
| President | Satoshi Oishi |
| Employees | 284 |
| Key Activities | Services including system integration, IT consulting, maintenance, IT outsourcing, networks, data centers |
KDDI locations in Vietnam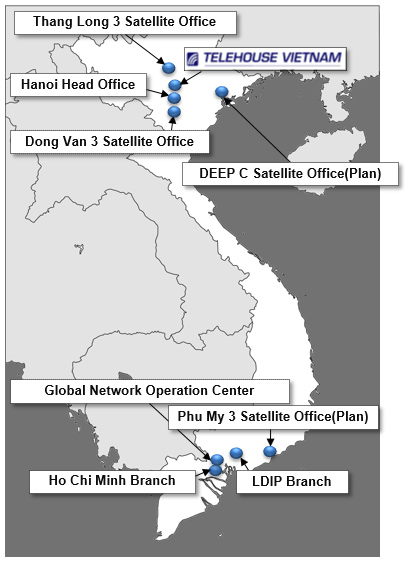 For inquiries, contact:
KDDI VIETNAM CORPORATION, Hanoi Headquarters
---