September 7,2017
KDDI CORPORATION (Head Office: Chiyoda-ku, Tokyo; President: Takashi Tanaka; "KDDI") and Samsung Electronics (Head Office: Suwon, South Korea; CEO: Oh-Hyun Kwon) today announced that they have successfully completed handover tests on a vehicle traveling at speeds of over 190km per hour, which is the fastest record in the world [1], using the 5th-generation mobile communications system ("5G").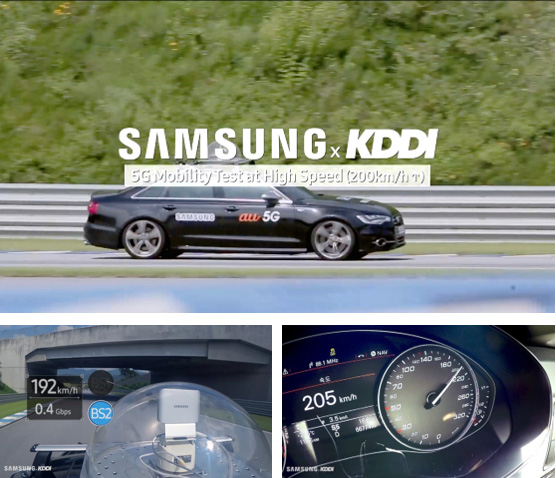 In February 2017, KDDI also successfully demonstrated Japan's first ever handover capability test using the 28GHz spectrum on a vehicle traveling at speeds of up to 60km/h in a dense urban environment on Tokyo's metropolitan expressway [2].
In the latest demonstration which took place on August 25, 2017, KDDI and Samsung successfully completed a handover trial at 192km per hour between multiple base stations using the experimental 28GHz radio frequency band system built at Everland Speedway in Yongin, South Korea. The trial also successfully demonstrated 5G data communications with a vehicle travelling at 205km per hour which is also the fastest record in the world [1].
KDDI will continue to promote utilization of 5G in high-speed mobile environments, such as connected cars, to create new and unprecedented services.
---