―Recognition of the top-level energy efficiency of Telehouse London Docklands North Two―
June 13,2017
KDDI is pleased to announce that its European subsidiary Telehouse Europe (Managing Director: Ken Sakai) has been named a winner in the

2017 Data Centre Solution Awards (hereafter DCS Awards), which recognizes the innovative achievements of business enterprises in data-center related technology and services.

The DCS Awards features 25 categories, and Telehouse London was a winner in the Data Centre Energy Efficiency Project of the Year category, which evaluates energy efficiency in data centers.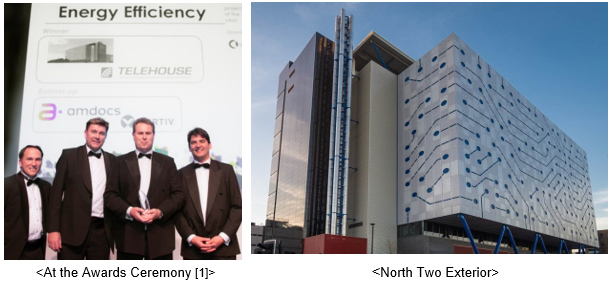 Telehouse London Docklands North Two (hereafter North Two) is the first multi-floor urban data center to feature an indirect adiabatic cooling system, and the award is in recognition of its achievement of top-level energy efficiency, with a PUE [2] of 1.16 (design value).
The indirect adiabatic cooling system is a system that cools by means of heat exchange between the warm air in the server room and the external air, and is generally used in the suburban, low-rise type of data center. The use of external air provides a high cooling capacity with low power consumption, and contributes to a reduction of the amount of energy used by the data center.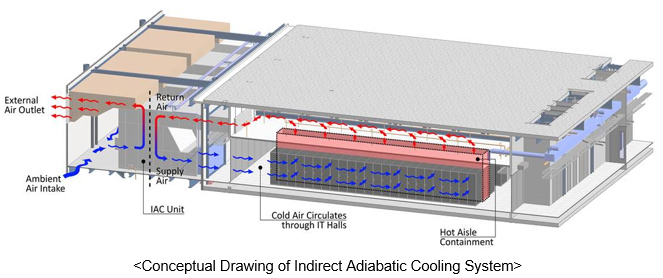 <Virtual Tour of Telehouse London Docklands North Two>
The KDDI Group operates data centers under the Telehouse brand in 48 locations in 24 cities in 13 countries and regions around the world. With roughly 30 years of experience in the field, we provide our customers with services that make the most of the knowhow we have gained over that time. As operators of premium data centers making optimum use of cutting-edge technologies and connectivity, we will continue to support the development of our customers' global business.
(Reference) About Telehouse London Docklands North Two
Situated in a prime location some 10km from Central London, North Two was opened in November 2016, the fourth data center (following on from the existing North, East and West) within the Telehouse London Docklands campus, the largest data center in the UK with a total floor space of some 73,000m2.
Telehouse London Docklands is one of the world's largest data centers, bringing direct connectivity to a total of over 530 telecommunications carriers, ISPs, and ASPs, and is the hub that supports the concept of Telehouse Interconnect, which enables connections to Telehouse's roughly 3,000 connectivity partners (carriers, mobile operators, ISPs, content providers and enterprises, etc.)
---