1. Service Overview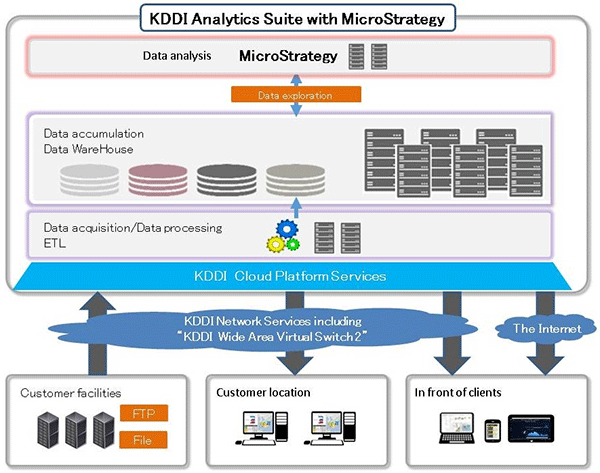 2. Example of Charges
Usage conditions
Initial cost
Monthly charge

Number of users

50

¥0
from ¥750,000

CPU

16 core

Disk capacity

1TB

Memory

62GB

Other

(Standard services)
Data backup
Weekday support from 9:00 to 17:00
3. Launch Date
October 23, 2014
4. Contact for Inquiries
<Corporate Customer Center>


0077-7051 (toll free)

0800-777-7051 (toll free)
Hours:
Weekdays 9:00 to 19:00
Saturday, Sunday, and Holidays 9:00 to 18:00
(Excluding Year End/New Year holidays)
<Reference>
About MicroStrategy Incorporated
Founded in 1989, MicroStrategy (Nasdaq: MSTR) is a leading worldwide provider of enterprise software platforms. The Company's mission is to provide the most flexible, powerful, scalable, and user-friendly analytics and identity management platforms, offered either on premises or in the cloud.
The MicroStrategy Analytics Platform (TM) empowers leading organizations to analyze vast amounts of data and distribute actionable business insight via reports, dashboards, ad-hoc advanced analytics, and powerful data visualizations. MicroStrategy Mobile (TM) extends that platform to enable organizations to rapidly build information-rich applications that combine multimedia, transactions, analytics, and custom workflows, delivered on mobile devices. The MicroStrategy Identity Platform (TM) (branded as MicroStrategy Usher (TM)) provides organizations the ability to develop a secure mobile app for identity and credentials. To learn more, visit MicroStrategy online, and follow us on Facebook and Twitter.
MicroStrategy, MicroStrategy Analytics Platform, MicroStrategy Mobile, MicroStrategy Identity Platform, and MicroStrategy Usher are either trademarks or registered trademarks of MicroStrategy Incorporated in the United States and certain other countries. Other product and company names mentioned herein may be the trademarks of their respective owners.
---